Telepathology Services Come To SEPA Labs
SEPA is proud to announce that we have signed a contract to bring iScan Coreo into service at our central laboratory in Brunswick GA. This highlights our commitment to bring 21st Century telepathology technology to the communities we serve.
FROM THE MANUFACTURER
The iScan Coreo slide scanner offers unprecedented flexibility and performance for the anatomic pathology laboratory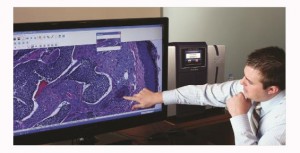 The VENTANA iScan Coreo scanner serves as the springboard for a total digital pathology environment in your anatomic pathology lab. The iScan Coreo scanner provides high speed slide scanning, improved image quality, and advanced slide handling. The scanner is packaged with advanced image viewing software offering pathologists and histotechnologists the ability to view and annotate digital images of scanned slides. The scanner can be fully integrated with the VENTANA Virtuoso image management software to provide users with a comprehensive digital pathology solution to support image acquisition, image management, image analysis, and customized reporting.
iScan Coreo key features
Compact slide scanner with 160 slide capacity
One-touch walk away scanning
Auto-turret supports scanning with 4 objectives
Live Mode for remote microscopy
Vacuum slide handling
Virtuoso – Image management software
The Virtuoso image management software is part of a complete solution that encompasses slide scanners, software, reagents, and stainers to assist the pathologists in providing the best results for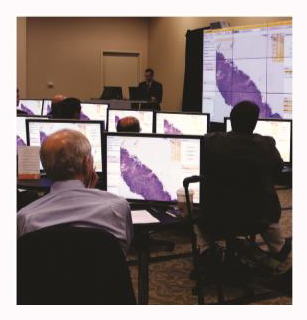 the patients. Virtuoso software combines rich functionality with a user-friendly interface to deliver a complete digital pathology solution from image management to customized reporting. The Virtuoso software's comprehensive feature set enables users to seamlessly incorporate digital pathology with their anatomic pathology workflow.
Virtuoso software orchestrates the laboratory workflow around the digital slide, from the moment the slide is scanned to the time results are reported. The role-based portals ensure that histotechnologists, pathologists, lab administrators, and clinicians have their individual workflow needs addressed.
Applications Enabled by Virtuoso
Image managment
Telepathology
Education
Image analysis
Digital sign-out
Archival & retrieval