Department of Gastrointestinal Pathology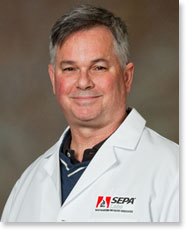 Dr. Timothy McIntire
Department Members
The Department of Gastrointestinal Pathology is staffed by three experienced Pathologists with a special interest in gastrointestinal pathology and liver pathology. Gastrointestinal services include:
Comprehensive Case Reviews
Detailed endoscopic biopsy interpretation reports
Liver biopsy interpretation

Comprehensive hepatitis activity score
SEPA's Department of Gastrointestinal Pathology prides itself on rapid accurate turnaround times of gastrointestinal specimens. In urgent cases, "STAT" reports can be provided within 6 hours of the arrival of the specimen in the laboratory.
Our Gastrointestinal Pathologists take a collaborative approach, meeting daily to consult, confer and corroborate results. Through our state-of-the art facilities, we provide a thorough evaluation of specimens using some of the most advanced technology available.
If you would like more information please read our brochure about Gastrointestinal Pathology.
Sample Report