Department of Genitourinary Pathology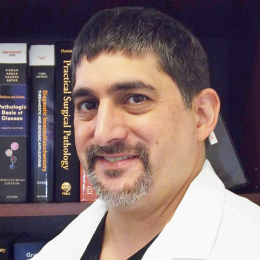 Dr. Daniel Fajardo MD, PhD
Department Members
The Department of Urological Pathology offers a full range of services including:
Expert diagnosis of all surgical and biopsy urological specimens
UroVysion ® – a fluorescence in situ hybridization (FISH) test for improved detection of bladder cancer in urinary specimens is offered in conjunction with the Department of Cytopathology
Comprehensive Case Reviews
The Division of Uropathology is headed by Dr. Daniel Fajardo MD, PhD who trained under Dr. Jonathan Epstein at Johns Hopkins.
SEPA Labs has the benefit of having expertly trained pathologists in areas that overlap with genitourinary specimens. For example, we have Board Certified Hematopathologists to consult in cases of hematolymphoid malignancies that may affect the genitourinary organs as well as Board Certified Dermatopathologists who are available to consult for dermatological diseases that may affect the penis and scrotum.
If you would like more information please read our brochure about Urological Pathology.
Sample Reports